For couple's with a sweet tooth, these DIY his and her favorite candy wedding favors are the perfect addition to their wedding reception. When you think of wedding favors, you probably think about some cheesy gift with the couple's name and wedding date. Something that might be meaningful to the people getting married, but not as meaningful to those attending the wedding. Candy on the other hand is something that can be enjoyed by just about everyone.
In this post, we'll show you how to make candy wedding favors using a Cricut. You can create a treat bag for each partner's favorite candy, plus a shared favorite candy favor bag.
This post includes some affiliate links for your convenience. This means that if you make a purchase, I earn a small commission at no added cost to you. For more information check out my privacy policy and disclosure.
Materials Needed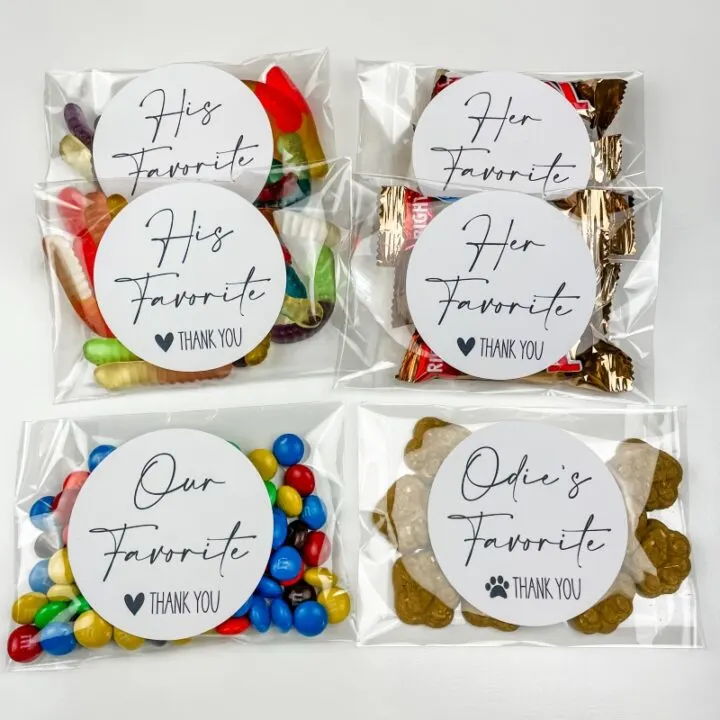 How To Make His and Her Favorite Wedding Favors
Use your Cricut to make these his and her favorite wedding favor stickers.
Materials
Instructions
Open Cricut Design Space and create a three-inch circle.
Add the text and any design elements you want on your sticker. Make sure that the text and design fit within the circle you created.

Change the operation type to print then cut for the circle, text, and design elements.
Select all layers and then flatten.
Repeat this process for any additional stickers. For this project, I am creating four favorite treat stickers. One for the bride, groom, a combined favorite treat, and a favorite treat for the couple's fur baby, Odie.

Duplicate the sticker designs so that you have the number of stickers you plan to make for each treat bag.
Select make it and follow the prompts in design space to print and cut out the wedding favor stickers.

Apply the stickers to the plastic treat bags and then fill the bags with the treats!

Notes
Fonts used:
BFC Fancy Rudolf and Almafi Coast
Why Are Candy Wedding Favors Popular?
Candy wedding favors are popular for several reasons:
Sweet Treat: Candy is universally loved, making it a delightful treat for guests.
Memorable Keepsake: Wedding favors are meant to serve as mementos of the special day, and candy is a tangible and delicious keepsake. It's something guests can easily take home and enjoy.
Personalization: Candy favors can be personalized to match the couple's style, theme, or even their favorite candies. This customization adds a personal touch to the wedding and shows that the couple put thought into their guests' experience.
Versatility: Candy favors come in various forms, from individually wrapped chocolates to colorful gummy candies, allowing couples to choose options that align with their wedding theme or color scheme.
Ease of Distribution: Distributing candy favors is straightforward and doesn't require much effort. Guests can grab them on their way out or find them at their place settings, reducing the need for elaborate distribution plans.
Guest-Friendly: Candy favors are generally easy to carry, so guests don't have to worry about handling fragile or bulky items. They can slip the candy into their bags or pockets without much fuss.
Instant Gratification: Unlike some wedding favors that may need assembly or explanation, candy favors offer instant gratification. Guests can enjoy them right away!
Inclusivity: Candy favors are inclusive, as they cater to various dietary preferences and restrictions. If they choose, couples can provide a mix of candies to accommodate all guests.
Cost-Effective: Candy favors can be cost-effective, especially when purchased in bulk.
In summary, these wedding favors are popular because they offer a delightful, customizable, and easy-to-enjoy token of appreciation that can enhance the overall guest experience at a wedding.