One of the great features of owning a Cricut is the ability to engrave materials using the Cricut engraving tool. In this article, we will take a deep dive into everything you need to know when using the Cricut engraving tip.
This post includes some affiliate links for your convenience. This means that if you make a purchase, I earn a small commission at no added cost to you. For more information check out my privacy policy and disclosure.
Table of Contents
What kind of Cricut machine is compatible with the Cricut engraving tip?
You need to use a Cricut Maker to engrave material with a Cricut. However, both the original Cricut Maker and the Cricut Maker 3 can use the engraving tip. This is because the engraving tip can only be used with the quick-swap housing tool and is only compatible with the Cricut Maker machine.
What is a quick-swap housing tool?
Cricut's quick-swap housing tool allows you to easily switch between scoring, engraving, debossing, perforation, and more. To change out the tip, press down on the plunger at the top of the tool, and the tip will be released. Then you can snap in the tip you'd like to use for your project.
What type of material can be engraved with a Cricut?
Using the engraving tip, you can engrave a variety of materials, including acrylic, leather, foil, acetate, glitter cardstock, aluminum, some metal, kraft board, and even vinyl records. Cricut lists many compatible materials in Cricut Design Space. If you don't see the material settings for something you'd like to engrave with your Cricut, you can test different settings until you find the correct settings for your material.
The Cricut Maker can engrave on material up to 2.4 millimeters thick. Therefore, it is essential to keep that in mind when selecting materials for your engraving projects.
Note: Currently, glass is not a compatible material to use with the engraving tool.
How to Use the Cricut Engraving Tool
When designing projects to use with the Cricut engraving tip, it is essential to either select pre-designed projects in Cricut Design Space that are made for the drawing function or use single-line designs or fonts. Read our in-depth article on single-line fonts if you aren't familiar with this kind of font type. If you use a regular typeface or SVG file, the Cricut will only cut the outline of the letters or design. You can also find a variety of single line or scoring designs on Creative Fabrica.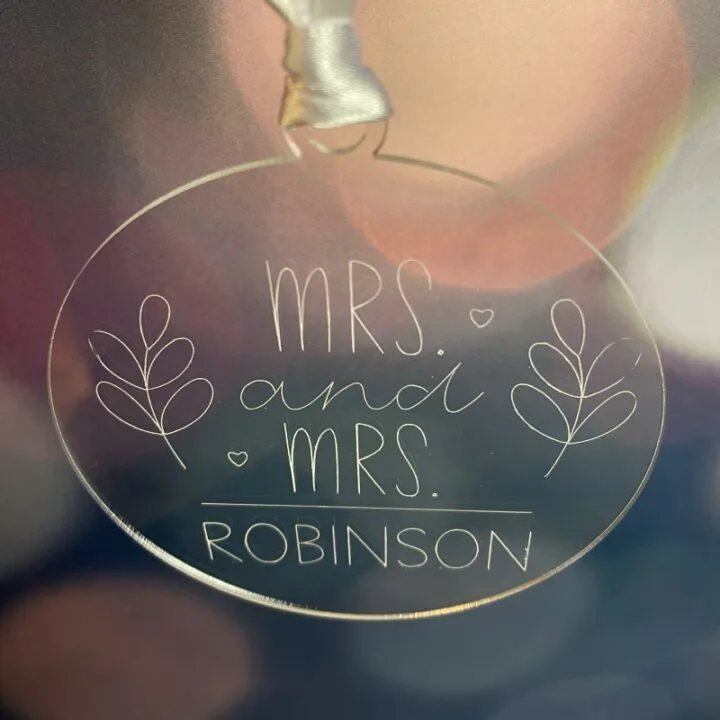 How to Use the Cricut Engraving Tool
Learning to engrave with your Cricut Maker is easier than you think! Follow these steps to learn how to use the engraving tip to create beautiful projects.
Materials
Engraving Project Materials or Blanks
Tools
Lint Roller
Painter's tape or masking tape
Instructions
Select the material you want to engrave and design your project in Cricut Design Space. For thicker materials, make sure they are less than 2.4 mm thick.
Change the operation type in Cricut Design Space to engrave.

Select attach and then select make it
Secure your engraving project material to a strong grip cutting mat. Move the white star wheels on your Cricut Maker all the way to the right.

Follow the prompts in Cricut Design Space, including choosing the correct material settings for your engraving project. If the material you are engraving on is not one of the options available, you'll have to create your own settings. This may require several test runs, so be sure you have enough of the material you're trying to engrave in case of mess-ups.

Send the engraving project to your Cricut Maker and watch the magic happen.

Use a lint roller to remove the excess material from your project and gently wipe down your Cricut Maker. Wipe from the inside out.
Repeat steps 4 through 7 until you are done with your engraving project.
Cricut Engraving Project Ideas
Use the engraving tip to create personalize necklaces.
Learn how to create stunning wedding invitations made out of acrylic using the engraving tool.
Photo Credit: jennifermaker.com
Learn how to engrave leather to create adorable bookmarks in this tutorial.