Seeking an innovative and entertaining way to wow your wedding guests? Consider providing personalized wedding koozies as favors! These items are not only distinctive but also practical and memorable. Utilize these fantastic ideas to ensure your special day is etched in everyone's hearts forever with tailor-made koozies just for them.
Table of Contents
Key Takeaways
Personalize your wedding koozies with monograms, initials and the date for a unique touch.
Get creative with custom artwork, funny one-liners or stunning drawings to express your love story.
Add some humor or go adventurous with travel inspired designs, DIY it if you want!
This post includes some affiliate links for your convenience. This means that if you make a purchase, I earn a small commission at no added cost to you. For more information check out my privacy policy and disclosure.
Personalized Wedding Koozies
Creating a personalized koozie can be an excellent way to incorporate your personal style into the wedding celebration. Offering various options such as monograms, initials, or even the date of marriage, it will give guests a token that reflects the thought and effort put in by you for their keepsakes. These customized wedding items are handy not only due to their memento status but also because they keep beverages cold including beers at receptions! Here we bring you design ideas that might make your chosen party favors stand out from everyone else's weddings.
Monograms and Initials
Adding personalized monograms to your wedding koozies can make them one-of-a-kind.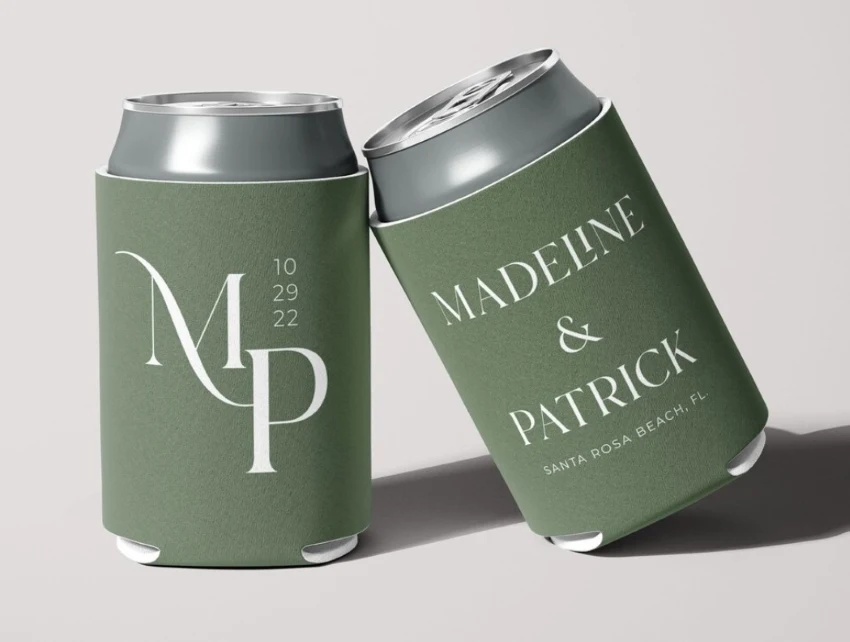 Wedding Date
Adding your wedding date to the koozies can be a touching way to remind your guests of that momentous day and also serve as an excellent memento for future anniversaries. Including one's wedding date will ensure all memories are kept alive in everyone's minds!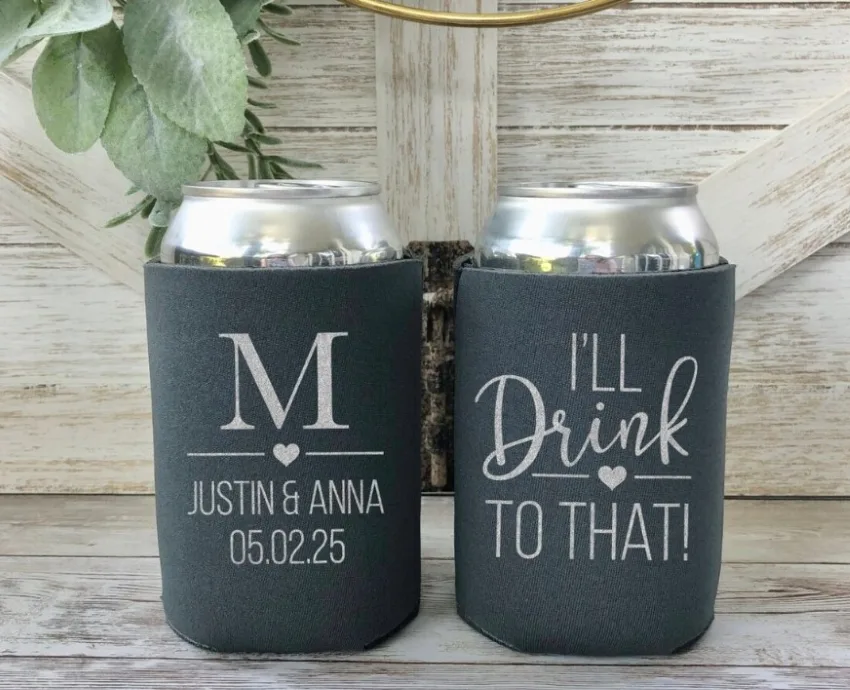 Unique Designs
When it comes to making a statement with koozie favors, you have plenty of choices for unique designs. From custom artwork depicting your love story or the venue where you're getting married, and funny one-liners to beautiful monograms—there are many ways that can make these special items stand out from the crowd.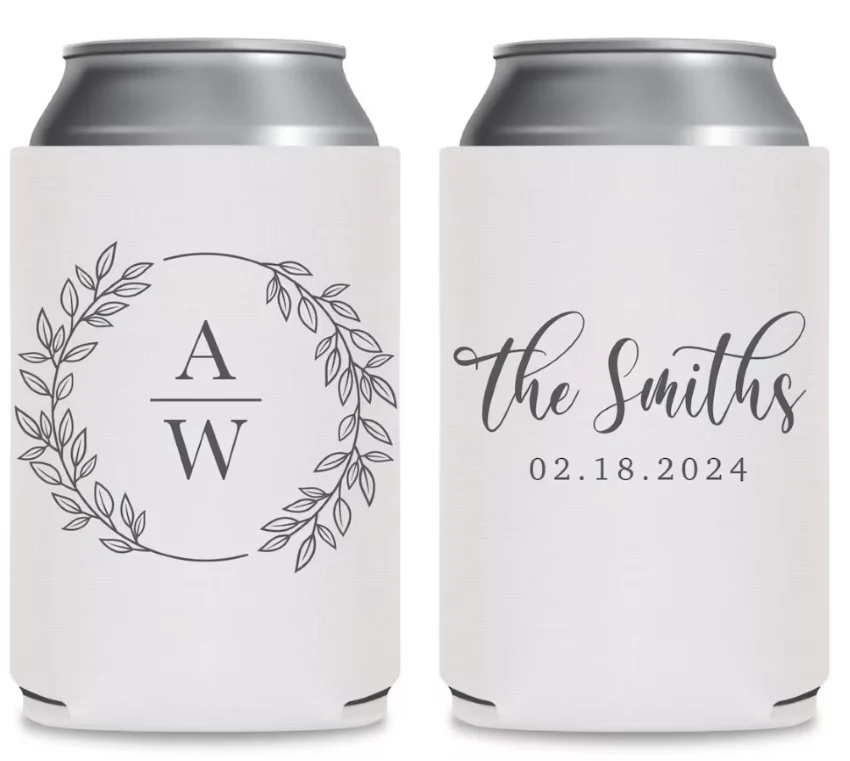 Humorous Wedding Koozies
For couples who are looking to add some humor and lightheartedness into their big day, funny wedding koozies can be a great option.
Funny Sayings
When it comes to picking sayings that perfectly capture you and your spouse's sense of humor there is no shortage – from "Just Married And Ready To Party!" through "Let's Get Nauti" – so don't stress about finding something just right.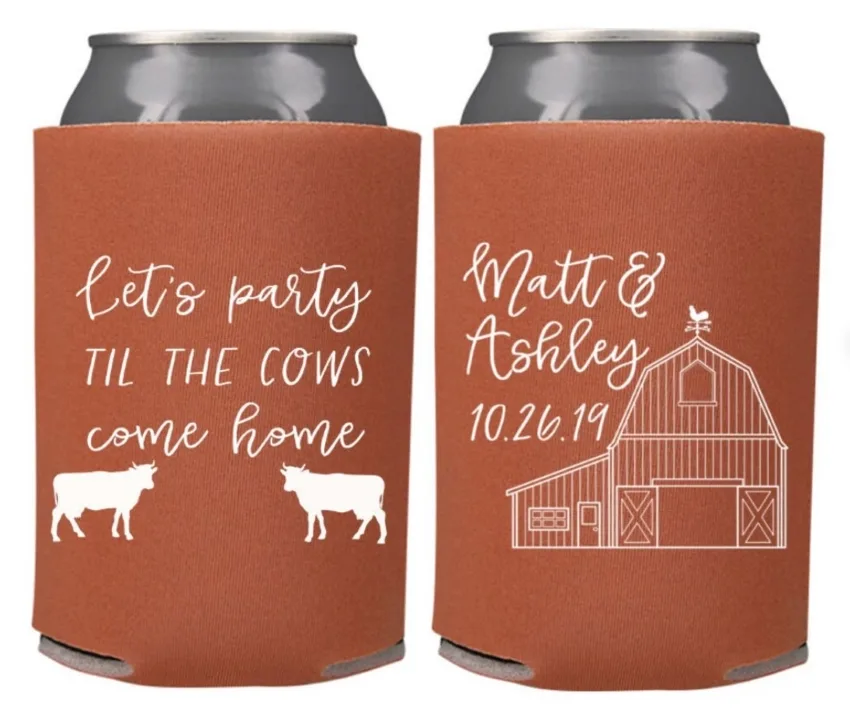 Incorporate Pets
Another fun idea is to incorporate pets into your wedding favors. These two options are a great way to personalize your wedding favors and incorporate your beloved fury family members.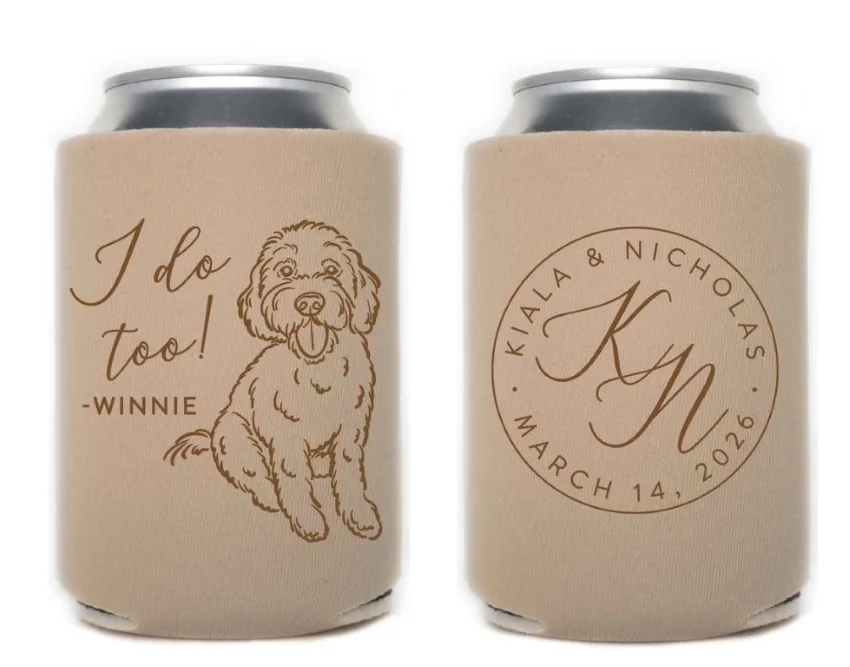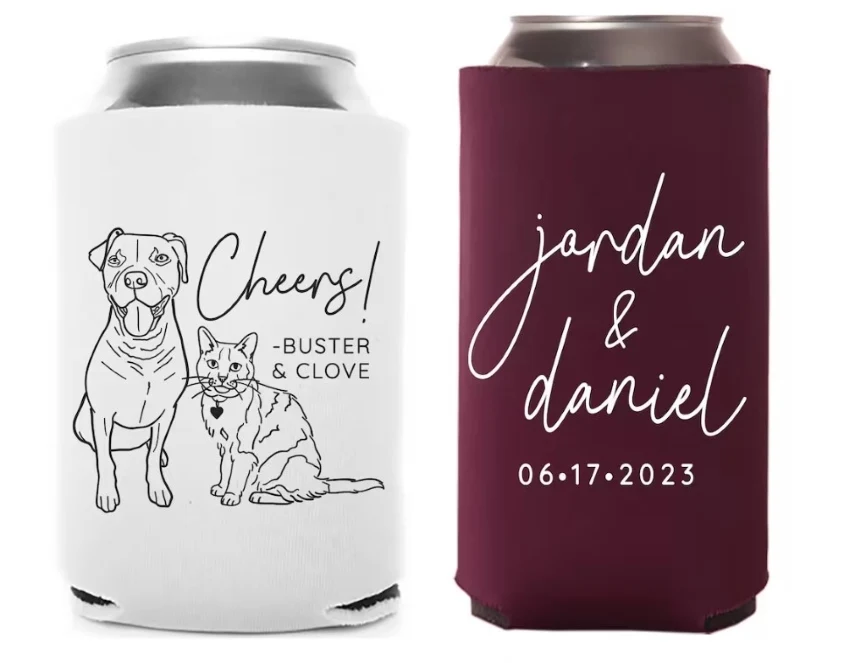 Travel-Inspired Wedding Koozies
If you and your partner are united by a love for adventure, why not reflect that in your wedding favors?
Destination Weddings
For a truly memorable wedding, destination wedding koozies are the perfect way to capture the unique location of your big day. With an array of cultural or landmark symbols that represent where you said 'I do', these souvenirs serve as lasting reminders for guests who shared in this momentous occasion.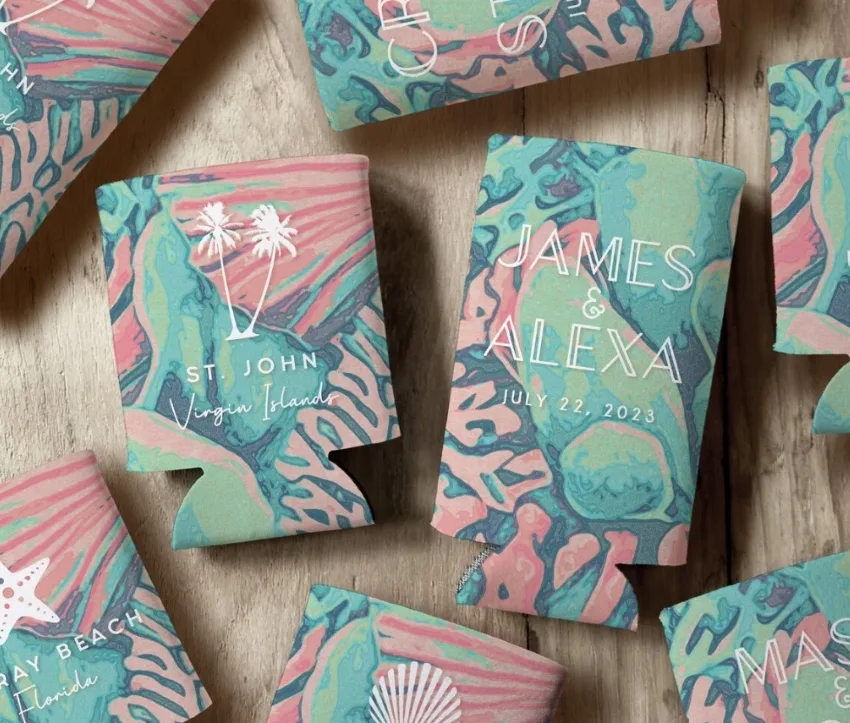 Adventure Awaits
Koozies with a special outdoor-inspired theme are an ideal choice for couples who love exploring and have fun outdoors. Customized designs can feature symbolic elements such as mountains, compasses or even maps of your wedding location combined with other decorations like flowers or marriage icons.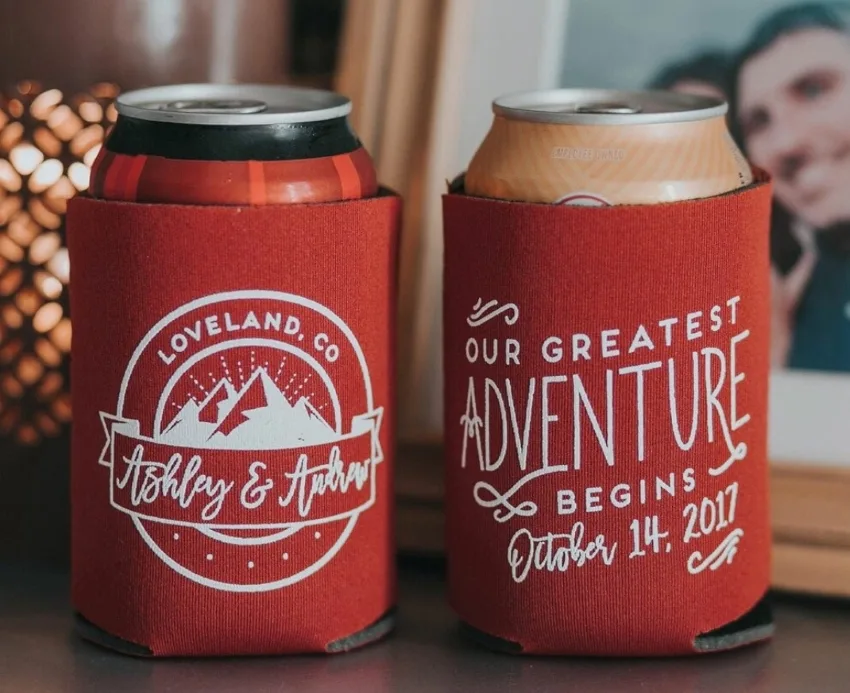 How to Make Wedding Koozies
Making personalized wedding koozies can give couples complete control over the final product and provide satisfaction in crafting something unique. All that's needed is a cutting machine, heat press, heat transfer vinyl, and koozie blanks. There are many advantages – customizing designs while saving money being just two benefits! So why not create one-of-a kind products for an unforgettable event?
Step 1: Open Cricut Design Space and design the text or image for your wedding koozies. Then select attach.
Step 2: Duplicate the design until you have enough for the number of koozies you are making. Select make it. Follow the steps in Design Space to cut your design out of heat transfer vinyl. Don't forget to mirror your design before cutting.
Step 3: Weed the heat transfer vinyl.
Step 4: Use a heat press to transfer the design onto the koozie blanks.
That's it! Creating personalized koozies using a Cricut is an easy and cost effective way to make wedding favors.
Summary
At your wedding, why not surprise and delight your guests by making personalized koozies with unique designs including monograms, initials or even humorous quotes? These fun items will create long-lasting memories of the special day while providing practical use – a win-win for all involved! With so many options available to customize these koozies specifically for your wedding celebration, it's easy to craft one that is truly memorable.
How many koozies should you buy for wedding?
Buy a koozie for each invited person, and then order some extras in case you need more. This way, your attendees can relish their beverages while having something special to commemorate the event when they go home.
Are wedding koozies worth it?
At a wedding, koozies make an ideal present for all your guests to keep. It will add a playful touch and also prove useful, what better way to wish friends well on this special day! The gift of these personalized keepsakes is definitely worth it when planning the perfect occasion.
Are koozies good wedding favors?
Koozies make for a wonderful addition to the wedding welcome bag or as a standalone favor, being both unique and useful. Keeping drinks chilled and reducing condensation are sure to be appreciated by your guests as they enjoy their day with you! A great way to add extra value as well, these koozies serve double duty in keeping beverages cold while offering a thoughtful favor at the same time.
What do you write on a wedding koozie?
On your wedding day, why not customize a koozie to really make it special? Add messages like 'To Have and To Hold and To Keep Your Drink Cold' or 'Eat, Drink and Be Married' for the perfect way to remember this big moment in your lives! Personalized koozies are ideal as they can be printed with whatever message or image you wish.