Booking a wedding ceremony and reception venue can be very exciting. It is often one of the first things couples do after getting engaged. Before you sign a contract with a wedding venue, make sure to do your due ​​diligence by asking these ten questions:
What is the total cost?
This may seem like an obvious question you need to ask when booking a wedding venue. Beyond the total price tag, you will want to know how much to plan for a deposit, when the deposit is due and when they expect final payment.
What is the cancellation policy?
It's good to read the fine print in your wedding venue contract, especially when it comes to the cancellation policy. Get clarity around the venue's cancellation policy so you are prepared in the event of a global pandemic. Will you get a full refund if you cancel before a certain date?
How long will we have access to the venue?
With some event venues, your contract is only for the day of the event. However some venues include access the night before for the rehearsal and the morning after the wedding for clean up. If you are planning to do a lot of the decorating yourself, you should probably consider booking a venue that gives more time for set up and clean up.
Is outside food and alcohol permitted?
Knowing if outside catering and beverage service is allowed will have a huge impact on your wedding budget. Make sure to get crystal clarity around whether you are stuck with the venue's catering service, preferred vendors, or if you can source this separately.
Do we need to provide extra insurance coverage?
Speaking of alcohol, many wedding venues require you to carry extra liability insurance if you serve alcohol during the reception. Many catering companies who include alcoholic beverage service can provide a copy of their liability insurance to meet this requirement. If you are hiring a bartender, you may need to add a policy temporarily through your insurance carrier. It's good to know ahead of time so that you aren't caught at the last minute trying to get in touch with your insurance agent.
Is there separate space for the bride and groom to get ready?
There are a lot of event venues that have a place for the bride and her bridal party to get ready. But is there a place for the groom and groomsmen to get dressed and hang out before the ceremony? Be sure to ask. This isn't a deal breaker, but it is good to know for planning purposes.
How late can the band or DJ play?
Some venues have to adhere to local noise restrictions. It is good to know how late the music can play. This helps with preparing your wedding timeline and booking entertainment. If you are wanting to dance and celebrate all night long, you won't want to book a venue that has an 8:00 PM quiet time.
What is included in the cost of the venue?
Normally, wedding venues account for a large portion of a couple's wedding budget. Make sure to ask what the price includes. Are tables, chairs, linens, plate ware and utensils included? Rental fees can really add up!
How many people can the venue accommodate?
You really don't want the wedding venue to limit the number of people on your guest list. Before booking a wedding venue, make sure you know how many people it can accommodate.
There is a lot to consider when planning a wedding. Check out our article on How to Start Planning Your Wedding.
Ready to save money on your wedding?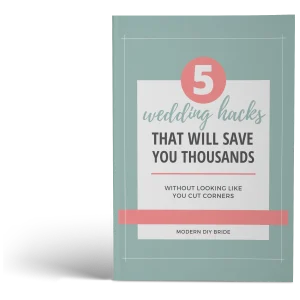 Get our free guide – 5 Wedding Hacks That Will Save You Thousands and learn how to save money on your wedding without looking like you cut corners!