​When it comes to creating your wedding guest list, how do you know who should make the cut?
Finalizing your wedding guest list can be incredibly stressful. ​​The last thing you want to do is hurt someone's feelings by not including them in your special day. While that is something to consider, it is also essential to consider your wedding guest list's impact on your budget. After all, the size of your guest list will determine the type and size of venue you book and the amount you spend on food and beverage expenses. ​
Let's be honest, when it comes to planning a wedding, family members can get pretty vocal about their opinions. ​So it's great to let family members weigh in, especially if they are helping you pay for the wedding, as long as it isn't creating stress.
​When Scott and I planned our wedding, we knew we wanted the day to be intimate. So we invited our close friends and immediate family. Parents, siblings, grandparents, aunts, and uncles. Since I have a lot of cousins (who are all married with kids), we decided not to include cousins. This was a difficult decision, but we were paying for the wedding ourselves, and the additional headcount would have driven our catering costs through the roof.
​As with any stage of the wedding planning process, remember what the day is all about! It's best to develop an objective way of creating your list. ​That's why I've created a Wedding Guest List ​Decision Map. It'll help you ​sift through the long list of friends and distant relatives. This way, you can explain to your future mother-in-law why her Great Aunt Agnes (who isn't actually a relative) isn't invited to ​watch you tie the knot.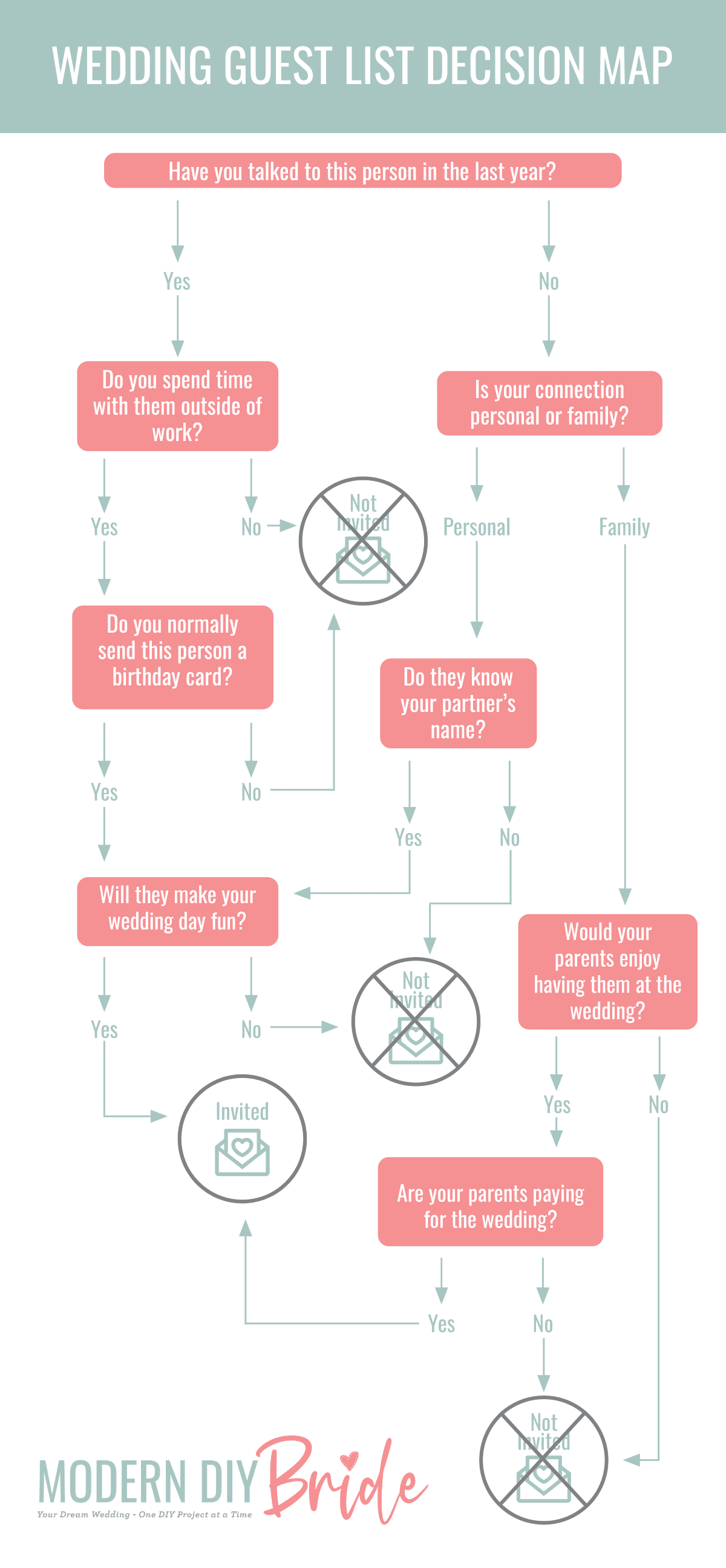 What questions should you ask when creating ​your wedding guest list?
Have you spoken with this person in the last year?
Is your connection personal or family?
Do you spend time with this person outside of work?
Do you normally send this person a birthday card?
Have they met your partner? If not, do they know your partner's name?
Will they make your wedding day fun?
Would your parents enjoy having them at the wedding?
These are just some of the many questions you and your partner should consider when creating your wedding guest list. If you can't come to an agreement, table the topic and come back to it at a later date. Some additional space may provide extra clarity on the matter.
To summarize, creating a wedding guest list can be a sensitive process for couples and their families. Many couples find themselves at odds with their parents over who to include. While considering parents' opinions is a great thing to do, it becomes less of an obligation if they aren't helping to foot the bill for the big day. Use your best judgment to invite the most important people to you and your partner. At the end of the day, that is all that matters.
What are your most significant pain points when writing your guest list? Let me know in the comments!