​Creating your own floral arrangements for your wedding has to be the ultimate undertaking for a DIY bride! Are you considering DIY flowers for your wedd​ing?
Full disclosure: I almost didn't have flowers at my wedding. Scott and I were paying for the entire wedding. When I saw how much a local florist was going to charge just for bridal party bouquets, I almost had a heart attack.
Now, I know that flowers really add a nice touch to wedding décor. Some could argue that flowers are the most important piece of wedding décor. I just couldn't justify spending thousands of dollars on something that couldn't be repurposed after the wedding.
It just so happened that my best friend was planning her wedding at the same time. Her plan was to create her own floral arrangements. At first, I thought she was crazy. Once I started looking into it, I could see the appeal.
Like me, my best friend is a control freak when it comes to event planning.
If she was brave enough to tackle wedding flowers, I could do it too. And the best part was ​I could learn from her since she was getting married ​before me.
7 ​Tips ​For ​Anyone ​Wanting to DIY ​Wedding ​Flowers
​This post includes some affiliate links for your convenience. This means that if you make a purchase, I earn a small commission at no added cost to you. For more information check out my privacy policy and disclosure.
​Tip 1: You Need a Plan
If you are going to arrange your own flowers, you need to solid plan. How ​many floral arrangements you'll need? Are you renting vases or purchasing them? Where will you be assembling the arrangements? How will you transport them to the wedding venue?
I was looking to spend less than $500 on weddings (including bridal party bouquets). With that in mind, I repurposed arrangements from the ceremony as centerpieces at the reception. It worked out perfectly. I enlisted the help of the groomsmen to transport them right after we said "I do."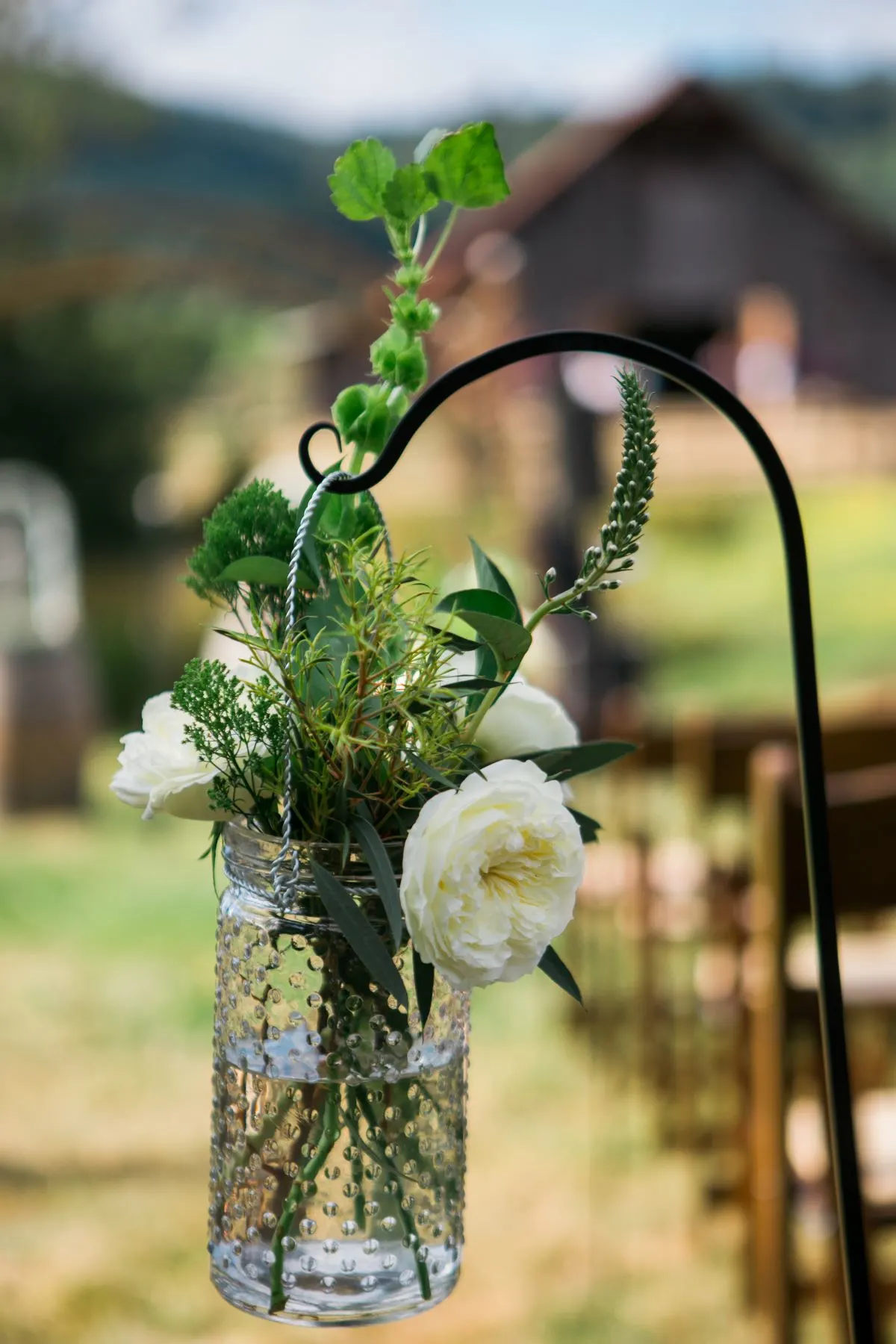 See now?! These are all of the questions that had me thinking my BFF was crazy. But hang with me, it's really not so bad. In fact, putting together the floral arrangements with my family and friends is one of my fondest memories of the days leading up to the wedding.
​Tip 2: Research Wholesale Suppliers
Ordering flowers online can be intimidating. It can also be a huge risk if you don't do your research. We ended up ordering our flowers from Costco through the bulk flowers site. This was only after reading every review I could find and weighing alternatives. An added bonus was seeing how beautiful the flowers turned out for my BFF's wedding.
There are plenty of options online to order from, just make sure to do your research.
​Tip 3: Reverse Engineer Your Timeline
​Order your flowers with plenty of time to spare. This is no joke. ​You can order in advance and select your preferred delivery date. ​Costco's bulk flowers ​will not be delivered on Friday, Saturday, or Sunday.
Make sure ​you schedule your flowers to arrive a couple of days before the wedding. This gives you time to unpack the flowers so they can start to open. You'll also need plenty of time to put together the arrangements.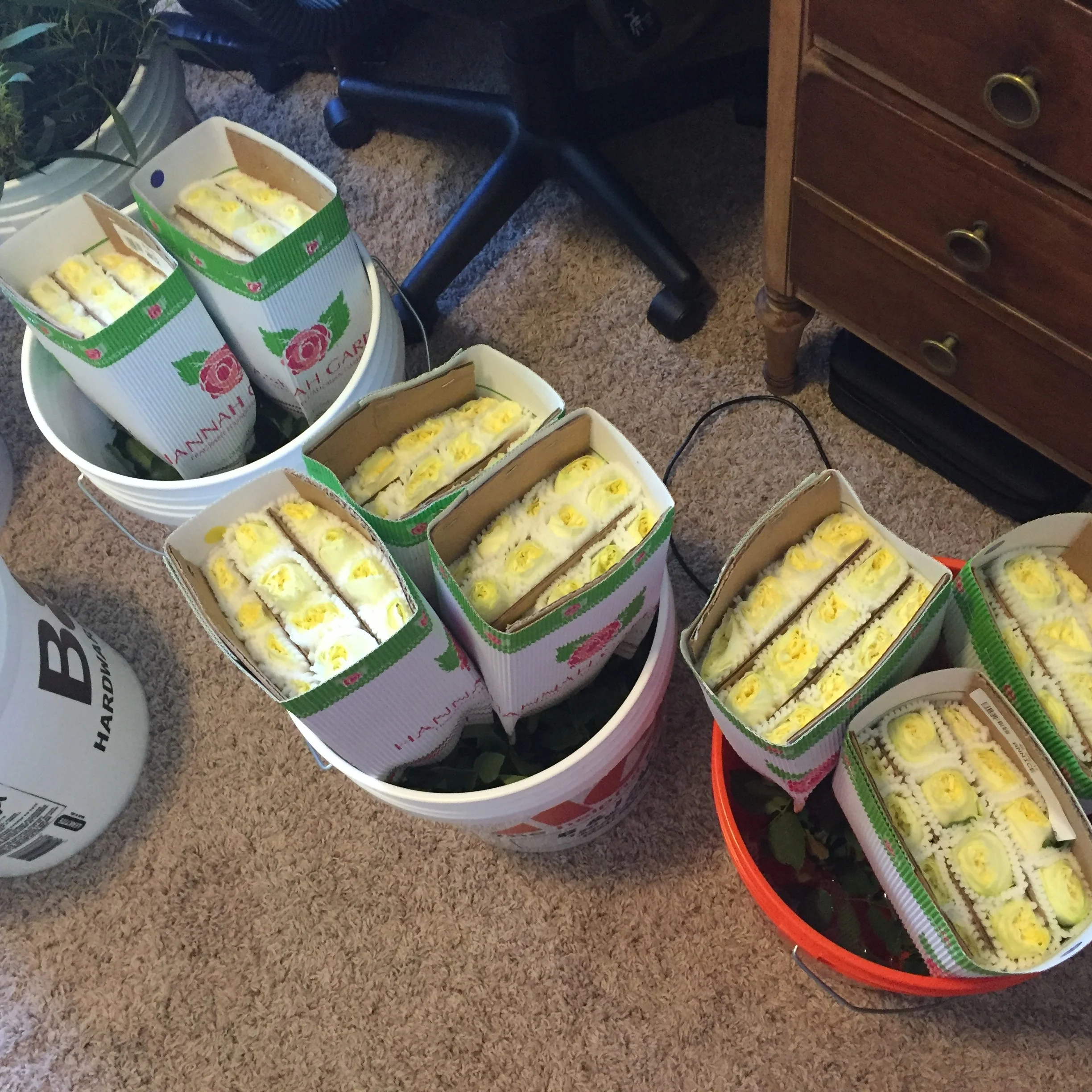 ​When they arrive, the flowers will be in a large box and individually wrapped like the picture above. I had a mini meltdown when I unboxed my roses. I ordered white vintage roses. As you can see, they look yellow. Thankfully, when the​ roses opened us they were the perfect shade of white!
​Tip 4: Buckets ​Are Your Friend​
​Head down to your local hardware store and pick up some five​-gallon buckets. Once your flowers arrive, you'll want to immediately put them in water.
We had our flowers delivered to our house, but were planning to assemble them at a vacation home close to the venue. The buckets provided some extra protection during the long drive. Even if you have your flowers delivered directly to your venue, buckets are a great way to quickly hydrate the flowers.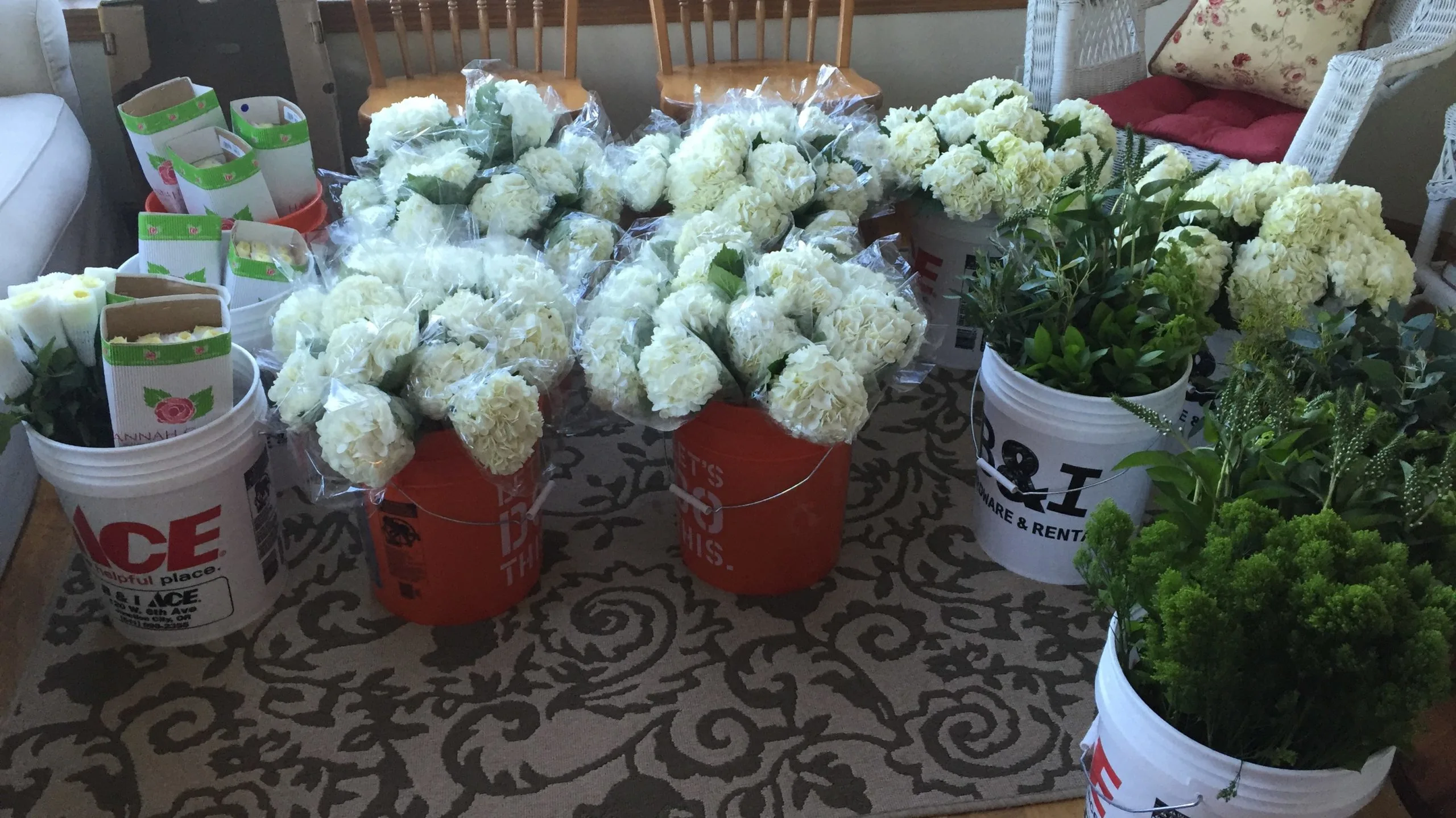 ​Tip 5: Call in Reinforcements
Do not attempt to do this alone! Seriously.
You need a team of people to help pull ​off DIY wedding flowers. So, gather your ​mom/sister/aunt and your bridal party​. ​Tell everyone to bring their pruning shears!
What was helpful for my wedding was having someone other than me be the point person. My mom's ​good friend, Kitty, has the most beautiful garden. All I had to do was show her my inspiration pictures and she put us all to work. This took a lot of pressure off of me.
Let's be honest, those days leading up to your wedding day can be incredibly stressful. Everyone needs something from you. Let someone else take charge of this and sit back with a glass of wine and enjoy playing with flowers.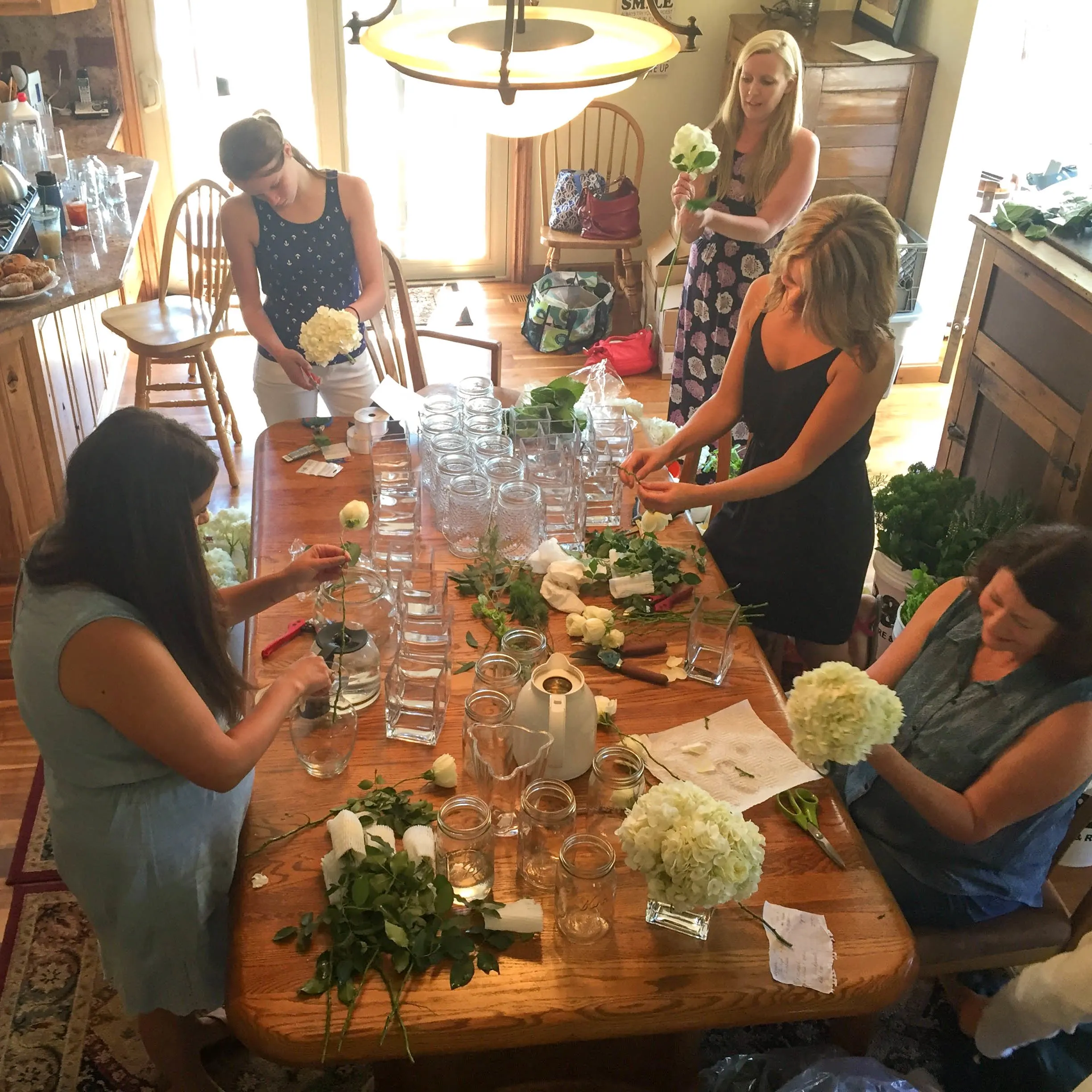 Tip 5: Be Prepared With Plenty of Supplies
You're going to need a few key materials to help you arrange the flowers.
Several pairs of pruning shears.
Vases for the arrangements. For our wedding purchased and rented vases. I made sure to look out for coupons and sales at our local craft store.
Florist tape will help keep the table arrangements in place.
Florist wire is great for bouquets and runners.
Ribbon for wrapping the stems of the bouquets.
Tip 6: Have Your Inspiration Pictures Readily Available
To help your crew assemble the wedding arrangements of your dreams it is important to share your vision. Have plenty of pictures available to share the look you are wanting to recreate. It could be helpful to have a sample arrangement already assembled.
If you need some help finding inspiration for your arrangements, check out our Pinterest board. Remember to be realistic in your expectations!
Tip 7: Remember to Have Fun!
It's easy to let little things stress you out. Especially when you've put so much time and effort into planning the perfect day. Your flowers may look slightly different than you had envisioned. That's okay! I guarantee your guests will have no idea.
Enjoy the moment and remember that soon you will be exchanging vows with your best friend!