No bachelorette party or bridal shower is complete until you kiss the miss goodbye! Such a unique spin on the traditional guest book. Grab your favorite shade of lipstick and a Sharpie and say goodbye to the Miss and HELLO Mrs!
This post includes some affiliate links for your convenience. This means that if you make a purchase, I earn a small commission at no added cost to you. For more information check out my privacy policy and disclosure.
To get started making your kissable guest book, you'll need a few supplies.
Step 1: Download the Design File
To get the file used in this tutorial, click on the link below. This will give you access to our resource library. Here you'll find design files used in many of our other DIY tutorials. Make sure to check your email. We will send you the password to the resource library.
Step 2: Print the Design File
After you've downloaded the Kiss the Miss Goodbye design, it's time to send it to your printer. Make sure to select 'actual size' under the page sizing and handling.
Step 3: Trim the Design File
Using a paper cutter or scissors, trim the design file. Use the black crop marks to cut the design to the appropriate size.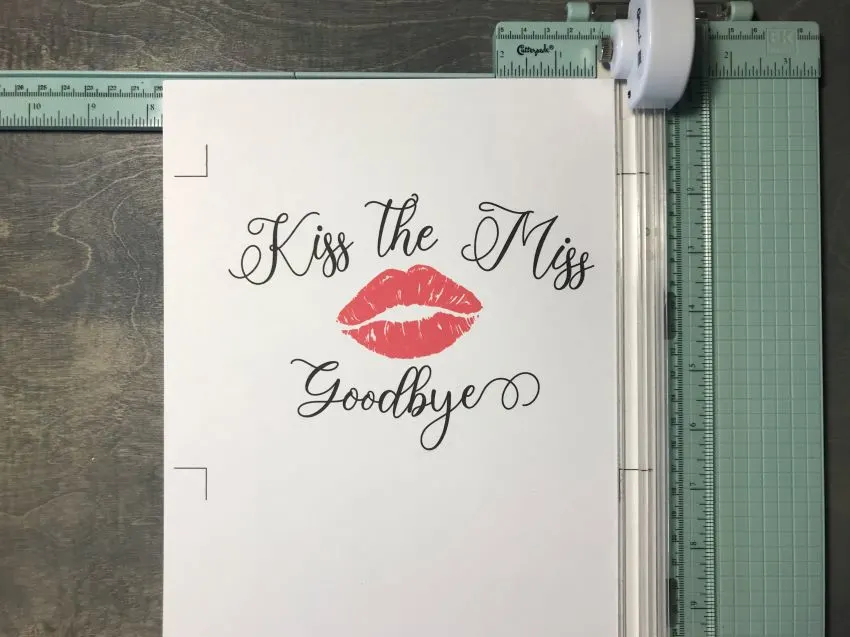 Step 4: Prepare the Frame
After the design file is trimmed, it's time to get the frame and mat ready. Remove the back of the frame and take out the cardboard backing and the glass. Insert the mat and then place the 5 x 7 Kiss the Miss Goodbye printout in the space for a photo. Replace and secure the back of the frame.
Make sure to keep the glass for the front of the frame in a safe place. Once you've all "kissed the miss goodbye" you will want to put the glass back on the frame. This will preserve all the kisses!
Step 5: Kiss the Miss Goodbye!
That's it! This is a super easy way to make an unforgettable guest book for the bride-to-be. Make sure to tag @moderndiybride on Instagram to show us how your project turned out!