In this post we are going to walk you through how to make super functional sparkler send off tags for your wedding In this post, we will walk you through how to make super functional sparkler send off tags for your wedding exit! A sparkler exit is a fun and festive way for you and your new spouse to leave your wedding reception. These tags go right on the end of the sparklers. Best of all, the free template includes an area for a match and a strike strip. That way, your wedding guests can all light their sparklers at the same time! No waiting around for a lighter or risking sparklers dying before your photographer captures the magical shot.
We will show you two ways to create these sparkler tags. If you have a Cricut Maker, we will show you how to make the tags using the print-then-cut method. If you do not have a Cricut Maker, you can use our free, editable PDF to personalize the tags and print them at home. Instructions for the editable PDF are at the bottom of this article. You can snag the design file for this project in our design file library. If you don't have a password yet, you can snag one here.
Before we get to the tutorial, let's answer some FAQs.
This post includes some affiliate links for your convenience. This means that if you make a purchase, I earn a small commission at no added cost to you. For more information check out my privacy policy and disclosure.
What Kind of Sparklers Do I Purchase for a Sparkler Wedding Exit?
There are many places to purchase sparklers for weddings. However, there are a few things you need to check before buying the sparklers. First, be sure you aren't purchasing the type of sparklers that you typically see around the Fourth of July. These sparklers produce a lot of smoke. Second, make sure you read the product details and understand the approximate burn time for the sparklers. Sparkler burn times range from around 50 seconds to five minutes. Generally speaking, the longer the length of the sparkler, the longer the burn time.
In our tutorial, we used 20-inch sparklers purchased from Ultra Sparklers. Our experience was great. They shipped our order quickly and arrived on time and exactly as pictured. Many other companies sell sparklers for wedding exits. Just do your due diligence by reading reviews and product descriptions.
Where to Purchase Matches With Colored Tips to Match My Wedding Color Palette?
You can use regular matches with the sparkler send off tags. Personally, the bright red tip of a standard match stands out quite a bit. However, weddings are all about the small details, so why not purchase matches that go with your wedding color palette? Urban Burn Candle Co. has a fantastic selection of colored tip matches. In fact, the last time we checked, they carried 15 different color options. We tried the periwinkle purple and charcoal black.
For inspiration and support, be sure to join our free Facebook community: Cricut DIY Weddings.
How to Make Sparkler Send Off Tags With a Cricut Maker or Explore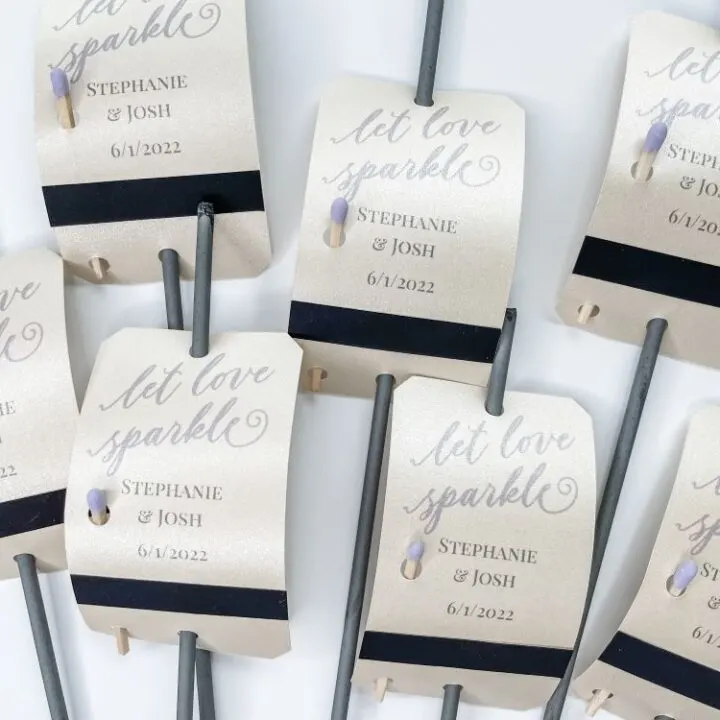 How to Make Sparkler Send Off Tags
Learn how to make sparkler send off tags for your sparkler wedding exit.
How to Make Sparkler Send Off Tags Without a Cricut
Once you've opened the PDF in the folder you downloaded from our design file library, open the file. You'll notice there are two form fields on each tag. You only need to add your wedding details to one of the tags. The remaining tags will auto-populate with text entered into the first tag. Remember to download the Playfair Display font from Google.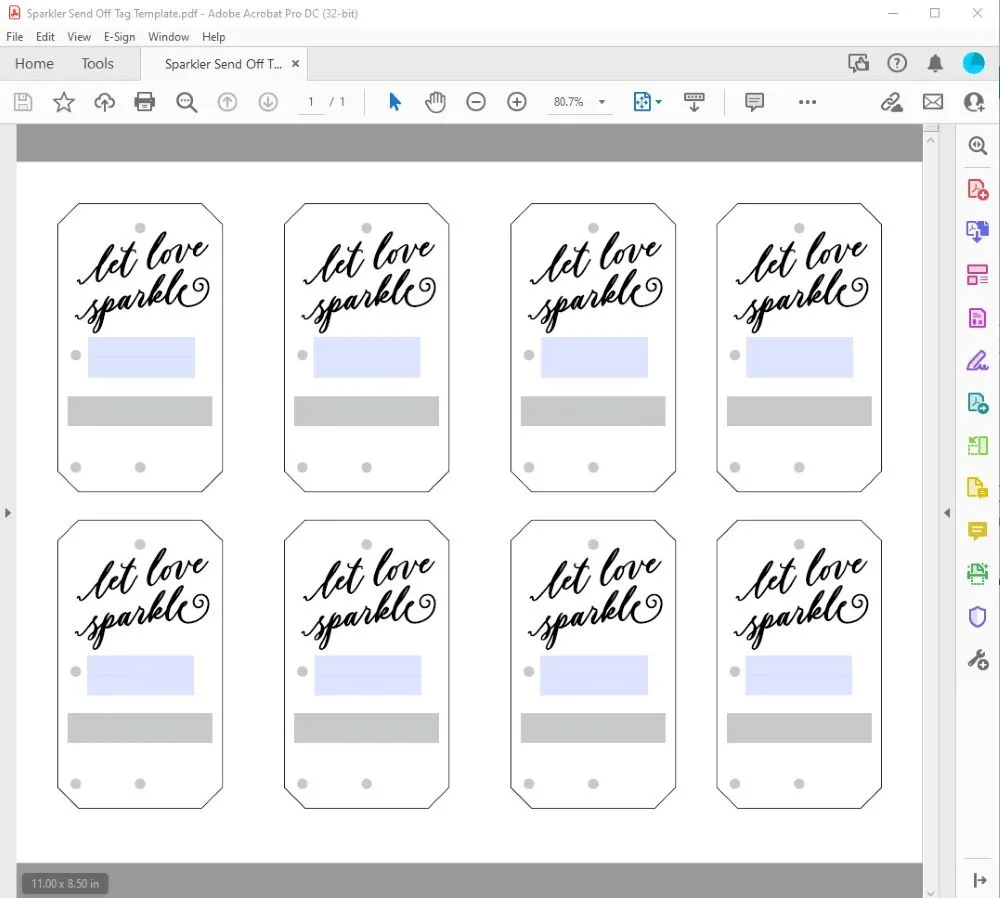 After you've entered your wedding details, save the file. Then, print your tags on 65 lb cardstock of your choice. Next, cut the tags out using scissors. Grab a 1/8 inch hole punch and punch out the light grey holes.
For the match strike paper you can use a ruler to cut out 2 inch wide by .4 inch long strips. Remove the backing and place the strips on the grey rectangle on the tags.
Finally, insert your matches and sparklers into each tag.
Whether you are using a Cricut cutting machine or you cut them yourself, these tags will help your sparkler wedding exit go off without a hitch!