Add a little flare to the bar at your wedding by creating custom wedding drink stirrers. This is one of those DIY wedding projects that will awe your guests and give them a small keepsake to take home. To make these for your wedding, you only need a few things: blank acrylic swizzle sticks, vinyl, and your Cricut cutting machine.
Where do you buy blank acrylic drink stirrers?
You can purchase drink stirrers directly from our shop. We have several colors and shapes to choose from, including arch, circle, and half moon. Don't hesitate to reach out for custom shapes – we love a good challenge! Our drink stirrers are 3 mm thick and are food safe.
What should your custom swizzle sticks say?
There is no rule that dictates what couples should display on their custom drink stirrers. Some ideas include the couple's initials, last name, wedding date, a funny saying, or a wedding logo.
This post includes some affiliate links for your convenience. This means that if you make a purchase, I earn a small commission at no added cost to you. For more information check out my privacy policy and disclosure.
What is the best type of vinyl to use for smaller font projects?
For smaller font projects, I like to use Oracal's permanent vinyl. Small font can be harder to weed and I've had better luck using the Oracal brand for this type of project. Try adding an offset to your design if the font you've chosen is on the thin side.
How should you clean your acrylic drink stirrers?
Once you've added the permanent vinyl to the drink stirrers, you can wash them with warm water and mild dish soap. Use a soft, lint-free cloth to gently dry the acrylic. Do not put the acrylic drink sticks in the dishwasher.
For inspiration and support, be sure to join our free Facebook community: Cricut DIY Weddings.
How To Make Acrylic Drink Stirrers For Your Wedding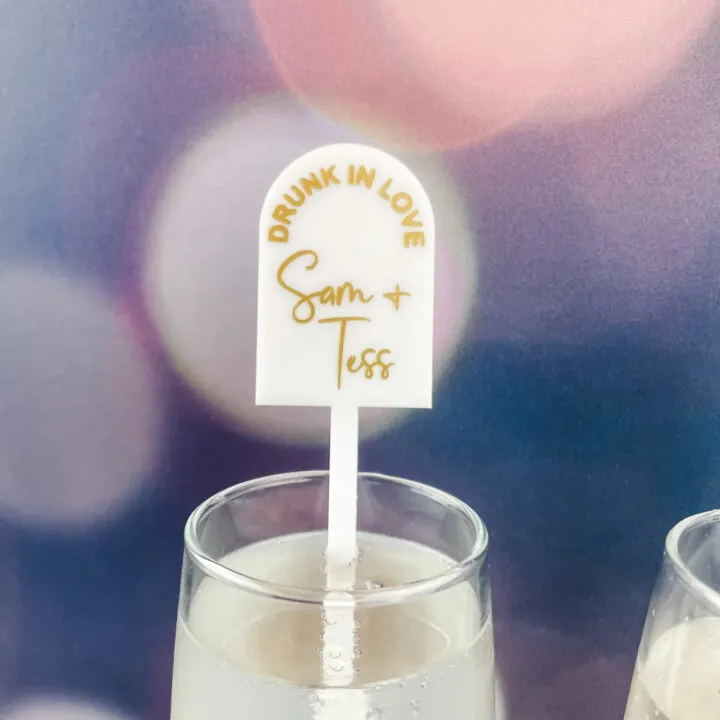 How To Make Acrylic Drink Stirrers For Your Wedding
Total Time:
1 hour
10 minutes
Create customized drink stirrers for your wedding reception using our acrylic swizzle stick blanks. A perfect way to incorporate little details into your wedding design for a one-of-a-kind event!
Materials
Tools
Instructions
Measure the top of your swizzle stick. Write down the width and height.

Remove the protected paper from both sides of the acrylic.

Open Cricut Design Space and create a shape using the measurements from step one.

Begin designing your custom swizzle stick. Your design should fit within the shape you created in step 3. Make sure to weld your font if using a script font. If you've chosen a thin font type, you may want to add an offset to thicken the font.

This will make it easier to weed once the vinyl is cut. Sometimes, it helps to make the font bigger before using the offset tool. After offsetting the text, resize the lettering to fit the design.

Tip: Try using the monogram tool within Design Space.
Select the shape and design, then select "attach" in Design Space.

Note: Leaving the shape helps make the weeding process more manageable after cutting the vinyl.
Duplicate your design until you have enough to add to your blank drink stirrers.

Place the vinyl on your cutting mat, using the brayer tool to secure the vinyl in place firmly.

Select "Make It" and follow the prompts from Design Space. Since I am using a thin font, I will select washi sheet as my material type. The cut settings with washi sheet and washi tape tend to work better with thin fonts and designs, even when using premium vinyl. It's always a good idea to test different material settings to get a feel for what works best with your machine, materials, and projects.

Once your machine has finished cutting, remove the cutting mat. You can leave the vinyl on the cutting mat for the next step or remove it. Now you'll remove the excess vinyl. This will leave the shape and your design.

Now, remove the shape. Sometimes, using the reverse weeding method with smaller designs is easier. You'll leave your design and shape intact with the reverse weeding method. Place the transfer tape over both the design and shape. Use your scraping tool to secure the transfer tape to the vinyl.

Flip the vinyl over and do the same thing to the backing of the vinyl.

At this point, cut out each section individually and then remove the paper backing.


Apply the vinyl to the drink stirrers.

Notes
Hand wash with warm water and mild dish soap. Dry with a lint-free cloth. Never put acrylic in the dishwasher - it will melt.
Recommended Products
This post includes affiliate links. This means I earn from qualifying purchases at no additional expense to you.